Of all the things that I love about summer, seeing the cascades of bright yellow Amaltas flowers coming to bloom and drenching everything outside my window in a golden hue is one of the most spectacular sights. And as the day draws to a close, I love standing beneath the shimmering tree, waiting for the petals to shower down and cover the ground in a yellow carpet… it's the perfect way to feel like a fairytale princess.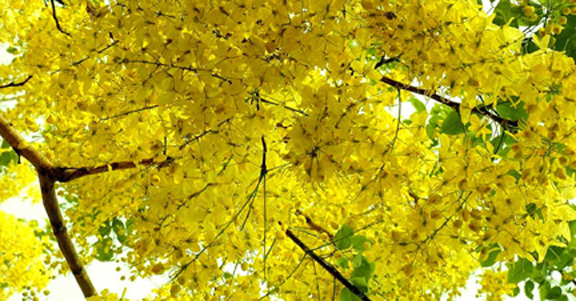 Those who haven't seen Amaltas flowers, think of the French mimosa or the English laburnum – they are very similar in both looks and benefits. In fact, Amaltas is a close cousin of the latter (hence it's also known as Indian Laburnum) and these pretty yellow flowers are so intrinsic to the leafy lanes of South Mumbai that we even have a road named after them – Laburnum Road.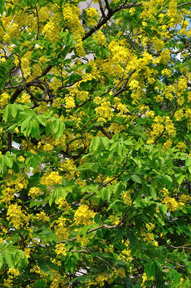 However, these gorgeous buds are not restricted to Mumbai – they are seen everywhere from southern Pakistan to Myanmar and Sri Lanka; in fact, it's the State flower of Kerala and the National flower of Thailand. Look carefully and you will even see them in Britain, the warmer parts of Europe and tropical regions of America. And with the varied regions come varied names: Cassia Fistula, Amaltas, Aragwadha, Chaturungal, Karnaikar and Rajvriksha.
Ayurveda attributes medicinal properties to almost all parts of this tree but it is the pulp of its fruit that is most commonly sought – as a potent laxative, metabolism booster, anti-inflammatory and blood purifier. The root is used in various skin diseases, while its leaves form an important part of many ointments and poultices. The bark of the tree has astringent properties.
Amaltas fritters
And that's not all – they also taste delicious when fried into pakodas (fritters). This is the recipe we have been using at home since decades. It's so simple that even I can pull it off once in a while, so let me know if it worked for you:
Ingredients:
A handful of freshly picked Amaltas flowers 3 cups Besan (Gram flour)
4 Green chilies (Chopped)
1/2 teaspoon Nigella seeds (kalonji): Optional 1 cup Water Salt, to taste  
Method:
1. Wash the flowers very well. 2. Blend all the ingredients (including the flowers) into a thick batter. 3. Heat oil in a wok (or Indian
kadai
) and drop small lumps of the batter into it for frying. 4. Deep fry the fritters – you might have to do a number of batches of 8-10 fritters each depending on the wok's size. 5. Serve hot – preferably with green chutney or ketchup.  
Amaltas perfume
  That said, to me the best way of indulging in the heady blooms of Amaltas throughout the year is distilling their fragrance into a perfume. It's easily done at home: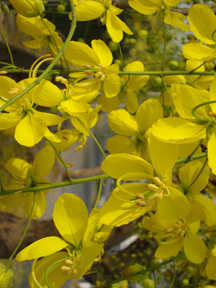 Ingredients:
2 cups of freshly picked Amaltas flowers 2 cups of Distilled water An empty perfume bottle (for storing)  
Method:
1. Wash the flowers very well. 2. Put the flowers and distilled water into a heavy-bottomed pot and heat to a just-below-boiling simmer (don't
cook
the flowers – that will ruin the scent). 3. Let them simmer for around two hours, checking periodically to make sure the pot hasn't run out of water. 4. Turn off the heat and cool the contents. 5. Strain contents through a muslin cloth (or cheesecloth) to remove the solid bits. 6. Pour the remaining liquid into an empty perfume bottle. 7. Use as you would any regular perfume!   Incidentally, this works for any kind of fragrant flowers. Will you be trying it out?
If you enjoyed this article, please consider sharing it!