Tags
2012, amfar, Beauty, Bollywood, Cannes, dinner, fashion, India, Indian, makeup, mallika, mallika sherawat, nude gown, sherawat
Helppppppp… the aliens have landed!!!! And they have crowned Mallika Sherawat as their queen. It's obviously not a style savvy race (at least by Planet Earth standards) but that's not the point. I am scared because chances are pretty high that they would go after those (*me*) who have dared to criticise their leader. But what to do? Even the fear of eternal torture by little green men with fish scale skin cannot pull words of admiration from my befuddled brain, especially after seeing what looks like the alien coronation gown that Ms. Sherawat recently donned for amfAR's Cinema Against AIDS gala dinner at Cannes yesterday night.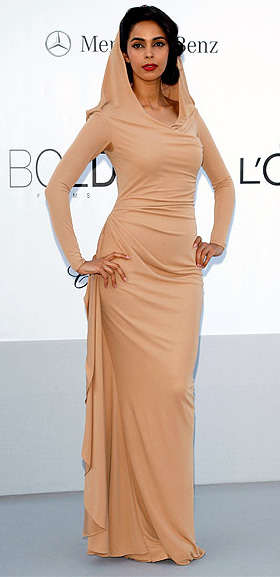 Designed once again by Ali Mahdavi (someone please check – has the normally stylish designer recently hit her head?) the nude-hued gown wrapped up Mallika's body like one big bandage, veiling even her head with a mammoth Jedi-style hood, proving once and for all that being fully clothed is no guarantee of looking elegant. Unlike Mallika's nude concoction at the premiere of Madagascar 3 a couple of days back, which showed every inch of flesh that could have been shown, this one actually covered every inch of the same flesh. Yet, it still looked awful! Now, if I think that Mallika looks as bad with clothes as she does with most of them off, it's time to invest in a light sabre to ward off the alien army. Any suggestions on where to get a good one for a reasonable price?
If you enjoyed this article, please consider sharing it!