I am not going to say anything about this Red-Riding-Hood-meets-Little-Bo-Peep-meets-Princess-Mia look showcased to brilliant disastrous-dom by Sonam Kapoor at the Winners Dinner on the last day of the Cannes Film Festival. I am not. I am not. I am not. I am not. Except, maybe to point out that red velvet is probably not the right texture for a pouffy dress, especially in summer (actually, this would be equally disastrous in winter as well, so that's redundant). Or to say that grown-up women should know whether or not pouffy dresses suit them at all – there is maybe 0.01% of the world's female population above the age of four years who can pull off this silhouette and Sonam is clearly not part of that group.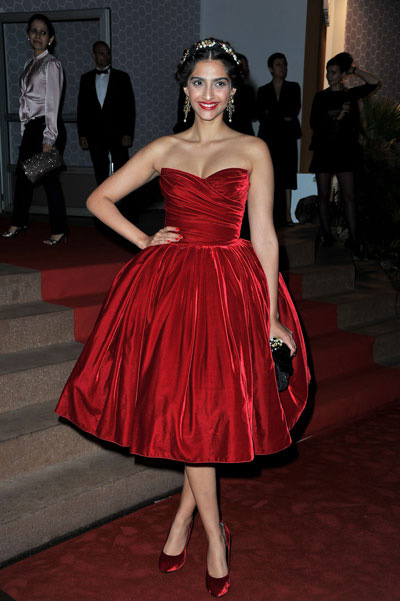 Another important thing that grown-up women should know: dressing "designer" is not always the same as dressing well (this confection is from Dolce & Gabbana, just in case you were wondering!). Oh! And I will just take the liberty of pointing out those red velvet slippers and glittery headband-cum-tiara… in case you missed them and hence would remain perpetually bereft of style ideas on how to dress up like an overgrown cupcake. That's it from me. I am going to be seeing this dress in my dreams today – and definitely not in a good way. If this is what Red Riding Hood wore to meet her grandmom, the big bad wolf would have run away screaming in abject terror!
If you enjoyed this article, please consider sharing it!