For everyone who has been mailing, SMS-ing and tweeting me to ask what exactly it was that Mehr Jessia wore on the red carpet at Cannes, here is a rare pic that actually shows the front of her gown. In all other pix she is draped over hubby in such a way that one can't see the front of her gown at all – not that I blame her. If my hubby was Arjun Rampal, I would never ever leave his side either!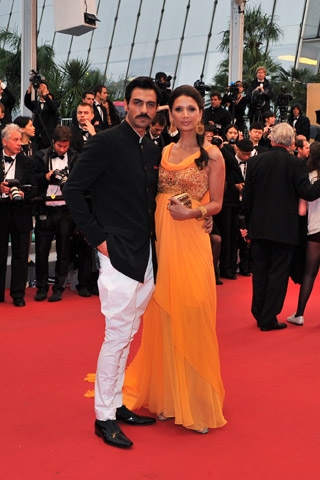 The super-gorgeous lady wore an orange-coloured "modern" anarkali (an Indian tunic with a fitted bodice and flared skirt) in georgette, styled with Tarun Tahiliani's signature drape. The Turkish-inspired digital print bodice was embellished with Swarovski Elements, creating just the right amount of bling to set the red carpet on fire. Elegance and drama all rolled up into one stunning package… Aishwarya Rai, Mallika Sherawat, Freida Pinto, are you watching (and learning)????
If you enjoyed this article, please consider sharing it!