At her last Cannes' appearance, Mallika Sherawat wore a snake. This time, she showed up in a backless and sideless (to put it mildly) nude gown that left nothing to the imagination. Can't figure out which was a better look!
Opinions across the blogosphere are varied about this gown from Paris-based designer Ali Mahdavi. Some have called it "too tame" (no judgement here but really?) while others are criticising the critics for not liking the fact that an Indian woman is dressed in a revealing gown, given our cultural attitudes to public nudity.
I definitely do not like this dress on Mallika. And it has nothing to do with my "cultural legacy". I still wouldn't have liked it if Angelina Jolie had shimmied in it across the red carpet. Except that Angelina would clearly never wear a concoction that has so many fashion faux pas on display.
First, Mallika's gown dips excruciatingly low – a backless gown needs to sit above the tail bone, covering the hips. Not two inches below it, exposing things that should not be revealed in any kind of culture.
Secondly, wearing both backless and sideless at the same time? Really, Mallika? The Bollywood actress tweeted that the gown was custom-fitted and literally stitched onto her body before the appearance. In that case, maybe the fitters should have been more careful about the fact that Ms. Sherawat's bosom is completely spilling out of the sides – and not in a sultry, sexy way. Want pointers, Mallika? See how someone like Ms. Jolie carries off the look:
Moving past the dress, what worries me the most is what Mallika has done with her makeup. At a time when most celebs are channelling the natural, polished look, she chose the OTT winged-eyeliner-and-bouffant-hairdo vibe straight from the '70s.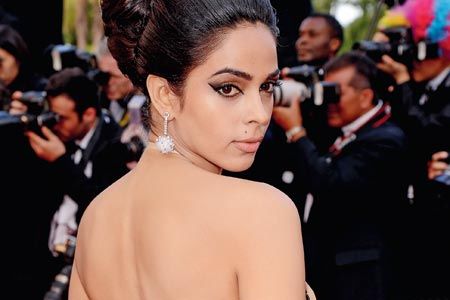 Mallika has been on record about her "being open to Hollywood roles". I wouldn't hold my breath! What do you think?
In the meantime, go through this gallery to see how the world's most stylish women actually pull off a backless dress!
If you enjoyed this article, please consider sharing it!