Recently, I chanced upon a gorgeous brand called Ila, which felt fabulously luxuriously blissful against my skin while calling upon 'vibrational energies' to soothe the senses. Developed a handful of years back by Denise Leicester, a Brit who came to India and fell in love with it's culture, traditions and flowers, it offers up a sensual medley of floral and plant extracts, natural mineral oils and Himalayan salt crystals. The word 'Ila' comes from the Sanskrit word for 'earth' and there is a sacred place in northern India at the confluence of the Sarasvati and Drishdvati rivers known as Ilayaspada, which is considered to be extremely holy.
"Beyond organic"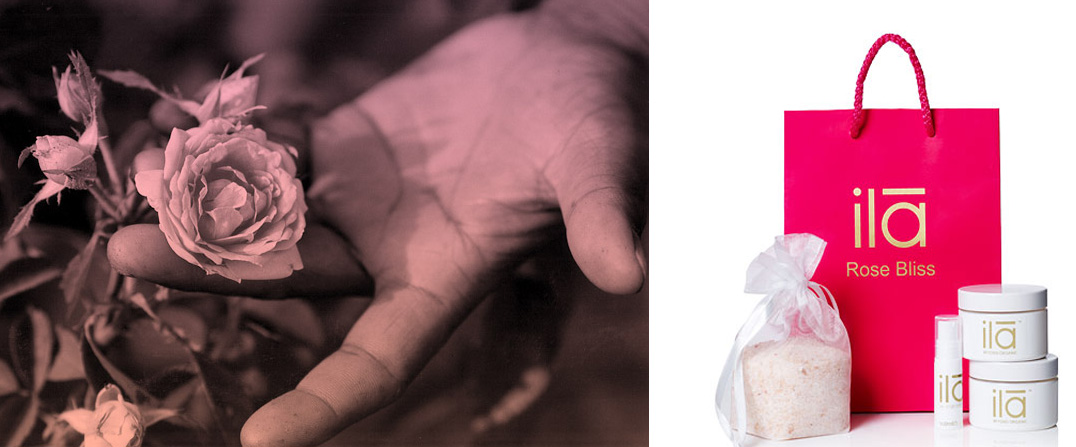 In keeping with it's name, Ila is devoted to the ancient practises that respect the sanctity of Mother Earth while calling upon it's healing energies. According to Denise, "Everything in our products comes from a plant or mineral – nothing else." But the brand goes even beyond the merely organic – every single ingredient is not only free from synthetic chemicals but is also sourced directly from local producers who cultivate and harvest them in harmony with nature.
Roses that hold an ancient promise

For example, the Rose Damascena from India comes from a family that has been growing and distilling roses for many generations according to centuries-old methods. The water is drawn by solar energy, then mixed with petals in copper vats and heated by natural fire-fuel. The spent petals are fed to the cows, completing a cycle that begins and ends with nature. The end result is a distillate of Rose Otto with a depth and a richness of scent that is so potent, I can smell the fragrance and feel it's silken touch a full 12 hours after washing the Body Balm for Feeding Skin and Senses off my skin!
Moroccan memories

Similarly, the Argan Oil from Morocco is made by a womans' co-operative whose skills have been passed on down the Berber generations. It's crushed, filtered and cold-pressed in the way it always has been, using many hands and just a few simple mechanical aids. Denise and her colleagues eschew middle-men, choosing instead to travel and handpick the "purest sources" themselves, thus laying the foundations for fair trade. The reason? "The purer the source and the process, the purer Ila's products will be and the more suffused with the earth's natural healing energy."
Beauty through chanting?
The products themselves are artisanal and hand-blended in an environment of "peace and purity", accompanied by the rhythm of energy and balance-imbuing chants in the English countryside. This is to imbue the finished potions with all the pure vibrational energies of nature that work in consonance with therapeutic ingredients "to improve natural beauty through the health and vitality of our skin, to increase well-being through the transforming effects of energy healing, and to connect to a greater sense of inner serenity."
Ila products have garnered a number of awards and are available at premium outlets across the world (including the Four Seasons Spa in Mumbai, which also offers up terrific spa rituals based around the same,  for the benefit of Indian connoisseurs). Prices normally start at approximately Rs. 2,000 (or 35 British pounds, depending on which part of the world you are based).
If you enjoyed this article, please consider sharing it!